kintone Plugin: "Add Shortcut Button" Plugin[EN]
This post has been more than 3 years since it was last updated.
Series Outline
kintone Plaform Part 1 - Business database apps creation platform without coding
kintone Plaform Part 2 - Using Plug-in to extend your platform features
kintone Plaform Part 3 - Plug-In development Tutorial
kintone Plaform Part 4 - Plug-ins list
Overview
Hi, everyone ! Back to the kintone plugin series I will introduce to everyone a new plugin ** Add shortcut button ** help users can create shortcuts button for the application. Through the previous articles in the series kintone Plaform , you already have the knowledge about:
What is kintone
What is Plugin and Plugin development Tuttorial
Plugins list in kintone
Problem
In many cases users do not want to lose a lot of work to be able to move to the site they want. Therefore, kintone plugin has provided a plugin that can create button shortcuts so that users just need to click the mouse to move to the user page.
How to use Plugin
First, we go to setting
Click New, check plugin Add shortcut button

On the settings plugin, we set the buttons with names, urls, and set how to invoke urls on the same window or on another window. Finally, click Submit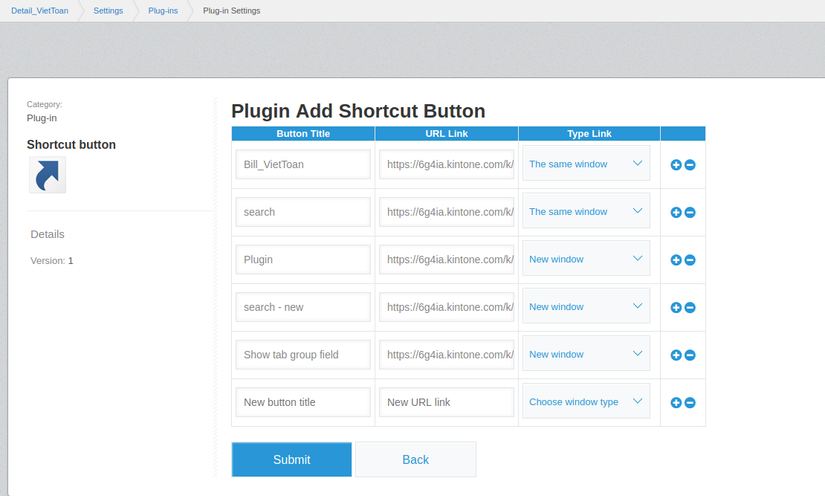 Do not forget to update your app. Here is the result:

Notes
Add shortcut button plugin will follow the rules:

Up to 5 buttons can be set
If the button name is too long then the back button will display ..., when the mouse hovers over will display all the button name

We do not guarantee this sample to run.
We do not provide any technical support for this sample Plug-in.
Downloadable Content
Zip file, please download the follwed link and upload whole package to kintone, don't extract it before upload to kintone. https://drive.google.com/file/d/1IRZ5ac7qoWECCOWt8XTkQKnQb82OhWNH/view?usp=sharing
It 's not the end
It's nice if people are interested in kintone as well as the Plugin series. And please meet again in the next article, I will introduce you more great and useful plugin in kintone!
All Rights Reserved